Why iSportsman ?
The Kansas Department of Wildlife, Parks & Tourism (KDWPT) is responsible for managing the state's outdoor recreation resources, and is charged with promoting these and other travel destinations in the state. The Fisheries and Wildlife Division administers programs to manage fish and wildlife popu­lations through harvest management, research, species population and human demographic surveys, and access to fishing and hunting opportunities. The division's Public Lands Section manages more than 350,000 acres of public land and water including 78 wildlife areas, 38 state fishing lakes, 7 public access areas and other areas including 16 U.S. Army Corps of Engineers and 6 Bureau of Reclamation reservoirs land areas managed under license agreements. Most of these properties are open to public hunting, although some may have species or seasons restrictions. Each public lands manager oversees one or more public land locations.
Under regulation (K.A.R. 115-8-1(e), Special Use Restrictions), KDWPT may require users of certain public land areas to obtain a special Daily/Use Permit for hunting or other activities. Currently, several properties or portions thereof require a user permit – primarily daily hunting permits, although the department may require a permit for other uses as deemed necessary.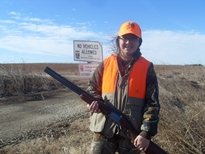 The paper-based permits were available on the properties at select parking lots and information kiosks (wooden sign boards). Users fill in their personal information (top portion) at the beginning of their visit. At the end of their visit, users add harvest information and then return the formsm (bottom portion) to any of the kiosks on the property at the end of the day. Managers travel to each of the kiosks to collect the completed permits and replenish the supply of blanks. The cards' tops and bottoms are then hand matched and mailed to a data entry point.
This paper-based system is inefficient, labor-intensive and limited in scalability. Approximately 6 months later, the collected information is compiled by hand into Excel spreadsheets or Access databases kept by property managers. There are no real-time reporting capabilities for the collected data, sometimes resulting in long delays in analysis and reporting. In addition, managers have limited ability to alert potential users ahead of time if a property must be closed.
You can not manage what you do not measure